Champions League football will be back on our screens tonight as The Knock out stages kicks off!
One of the most intriguing contest of this knockout stage kicks off tonight as Barcelona will be renewing hostilities when they host PSG and memories of 2017's remontada will be fresh in the mind of the French champions.
Chelsea square off with Atletico Madrid in another tasty fixture. The Spaniards will have revenge on their mind, with the Londoners having eliminated them from the group stage in 2018.
An exciting clash awaits us in Germany, as two of the most aesthetic sides on the continent will face off when Liverpool and RB Leipzig battle it out for a place in the quarterfinal.
Cristiano Ronaldo will lead Juventus to his native Portugal as the Old Lady face the Dragons of Porto.
In this thread, we shall be covering fixtures of The Round of 16 from 16th February to 17th March. A total of 16 matches.
Champions League round of 16 ties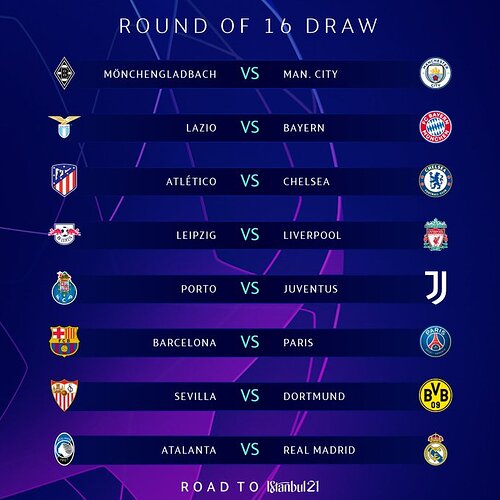 16 February & 10 March
9pm (BST) 1am (IST)
Leipzig (GER) vs Liverpool (ENG)
Barcelona (ESP) vs Paris (FRA)
17 February & 9 March
9pm (BST) 1am (IST)
Porto (POR) vs Juventus (ITA)
Sevilla (ESP) vs Borussia Dortmund (GER)
23 February & 17 March
9pm (BST) 1am (IST)
Lazio (ITA) vs Bayern (GER)
Atlético (ESP) vs Chelsea (ENG)
24 February & 16 March
9pm (BST) 1am (IST)
Borussia Mönchengladbach (GER) vs Manchester City (ENG)
Atalanta (ITA) vs Real Madrid (ESP)
Join in the discussion and share your view on various matches