As we move past the halfway point of the 2020/2021 Premier League season, the title favourite Manchester City has moved into top spot on the table.
This weekend sees them face a resurgent Sheffield United side that has won two of its last three… and still finds itself as a massive outsider.
The unquestioned biggest match of the weekend however features the other Manchester club as second placed United travels to North London to face Arsenal.
Current Premier League Standings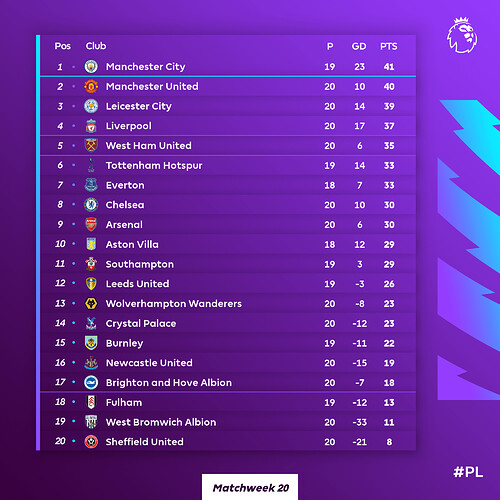 In this thread we will be covering fixtures of Matchday 21 from 30th to 31st of January. A total of 10 matches.
Premier League Fixtures
Saturday 30th of January
Everton Vs Newcastle United 1:30pm (BST) 7pm (IST)
Crystal Palace Vs Wolverhampton Wanderers 4pm (BST) 9:30pm (IST)
Manchester City Vs Sheffield United 4pm (BST) 9:30pm (IST)
West Bromwich Albion Vs Fulham 4pm (BST) 9:30pm (IST)
Arsenal Vs Manchester United 6:30pm (BST) 12am (IST)
Southampton Vs Aston Villa 9pm (BST) 2:30am (IST)
Sunday, January 31st
Chelsea Vs Burnley 1pm (BST) 6:30pm (IST)
Leicester City Vs Leeds United 3pm (BST) 8:30pm (IST)
Westham United Vs Liverpool 5:30pm (BST) 11pm (IST)
Brighton & Holve Albion Vs Tottenham Hotspur 8:15pm (BST) 1:45am (IST)
Plenty of exciting action in the EPL this Weekend! Join in the discussion and share your views on the best and worst matches and anything in between.