Another weekend of Premier League action awaits us, with all 20 clubs involved this weekend.
Liverpool can confirm top spot for Christmas by avoiding defeat at Crystal Palace as the busy festive schedule continues.
The Reds kick off the weekend action, then it's an intriguing clash between Southampton and Manchester City before Arsenal make the trip to Everton. Newcastle and Fulham round off the Saturday fixtures.
Brighton and Sheffield United are first up on Sunday on the south coast before Tottenham look to get back to winning ways against Leicester. Manchester United and Leeds renew their rivalry in the third game of the day ahead of Sam Allardyce's first game in charge of West Brom, taking on Aston Villa.
Monday's double-header is the latest chapter in Burnley's battle at the bottom, this time against Wolves, before Chelsea and West Ham face off under the Stamford Bridge lights in a London derby.
Premier League Standings after the conclusion of week 13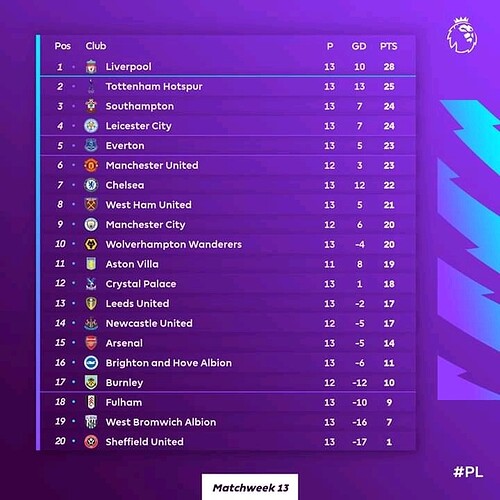 In this thread we will be covering fixtures of Matchday 14 from December 19th to 21st, a total of 10 matches.
GAME WEEK 14 FIXTURES:
Saturday, December 19
Crystal Palace vs Liverpool 1:30pm (BST) 6pm (IST)

Southampton vs Manchester City ( 4pm (BST) 8:30pm (IST)

Everton vs Arsenal 6.30pm (BST) 11pm (IST)

Newcastle vs Fulham 9pm (BST) 1:30am (IST)
Sunday, December 20
Brighton vs Sheffield United 1pm (BST) 5:30pm (IST)

Tottenham vs Leicester City 3.15pm (BST) 7:45pm (IST)

Manchester United vs Leeds 5.30pm (BST) 10pm (IST)

West Brom vs Aston Villa 8.15pm (BST) 12:15am (IST)
Monday, December 21
Burnley vs Wolves 6.30pm (BST) 11pm (IST)

Chelsea vs West Ham 9pm (BST) 1:30am (IST)
Plenty of exciting action in the EPL this weekend! Join in the discussion and share your views on the best and worst matches and anything in between.