After a subdued tennis season due to the COVID-19 pandemic, the men's tennis season is about to culminate with the annual ATP Finals in London. The season-ending ATP Finals will kick-off tomorrow and is scheduled from November 15-22, 2020. All the matches will be played without any audience in attendance. As with every year, the finest singles and doubles players will vie for the trophy in a round-robin format followed by the semi-finals and final.
This will be the 51st edition of the ATP Finals (46th in doubles), which was first played in 1970 in Tokyo, where Stan Smith triumphed. It is the tournament's 12th and final edition at the O2 Arena in London. Next year, it moves to Turin, Italy.
Who are playing?
This year's qualification is based on the ATP Rankings instead of 'Race to London' ranking due to a coronavirus-impacted season.
Group Tokyo 1970:
World No 1 and Australian Open champion Novak Djokovic, Daniil Medvedev, Alexander Zverev, Diego Schwartzman
Group London 2020:
French Open champion Rafael Nadal, US Open champion Dominic Thiem, Stefanos Tsitsipas, Andrey Rublev
Tsitsipas comes in as the defending champion after beating Thiem in the final last year.
Djokovic, the World No 1, is looking to win a record-tying 6th ATP Finals and first time since 2015. He triumphed at the event in 2008 and 2012-15.
Nadal, who has qualified for the ATP Finals for the 16th consecutive year, has surprisingly never won the indoor hardcourt event.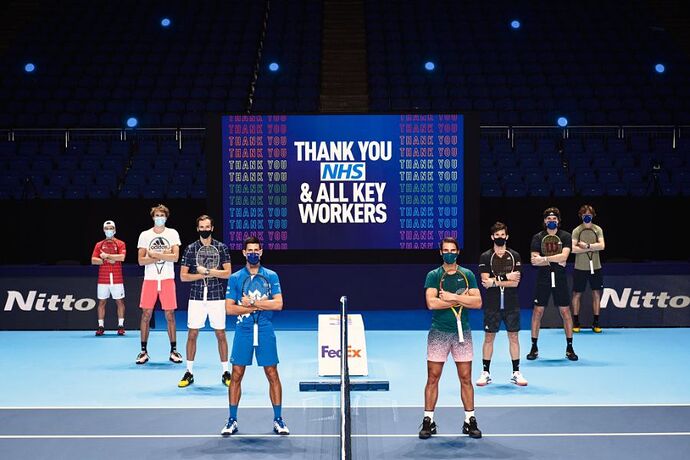 Format
The eight singles players are divided into two four-player groups: Group Tokyo 1970 and Group London 2020. Each player faces the other group member once and the top two from each group advance to the semi-finals.
Standings are decided by the number of wins. If there is a tie, then the player which has won the greater number of matches played, followed by head-to-head. If three players are tied with one win each, then the player who has played the least matches is automatically eliminated. The tie-break from the other two is broken on head-to-head record. If that fails, too, then it comes down to the highest percentage of sets won or games won.
Let's share and discuss the day by day results and information on this thread.