The year was 2005. I was 9 years old, the most formative years of my lives as I parents used to tell me. However, nothing formative was happening with me, I was a slim guy hardly reaching a height of 4 ft, struggling to make a mark in the world. The only thing that used to gave me solace were the world of sports. Cable TV during those times weren't as common as these days and we used to just get one sports channel. StarEspn or espn 1, I am not sure what that channel was called. However, the sports was teaching me just one thing that there is one supreme power in each and every thing and there was no challenge to that one supreme power. Football had Brazil in those days, cricket had Australia, hockey had Holland and Olympics was the playground of Americans. During that time I was introduced to tennis, a new sport for me but after observing it for a few months and reading about it in the newspapers and sportstar (a sports magazine available in my school library) I realised that even this game had one supreme power and that was called Roger Federer. A guy so good that even Australians (Hewitt) and Americans (Andy roddick, agassi) cannot stop him from conquering the world.
Then the most awaited tournament French Open started and everyone was assuming that Roger will easily win it. However, the script of this story wasn't written by a native writer but it was one that would put even George RR Martin to shame. To face the demigod Federer, a unknown guy appeared on the scene and a David vs goliath started in Paris. Nadal came out victorious and I found a new energy in me. If a guy so unknown that literally even time of india had little information on him could defeat the goliath called Roger Federer why couldn't I face the terrors that awaited me. In nadal I found my hero, my inspiration. With each and every passing year the battle between these two players grew deeper. The Wimbledon final of 2008, in my opinion was the best tennis game ever. The more Nadal Challanged Federer the more I fell I love with him and the more courage I developed in me.
For me nadal is not a player, he is the symbol of courage and fearlessness.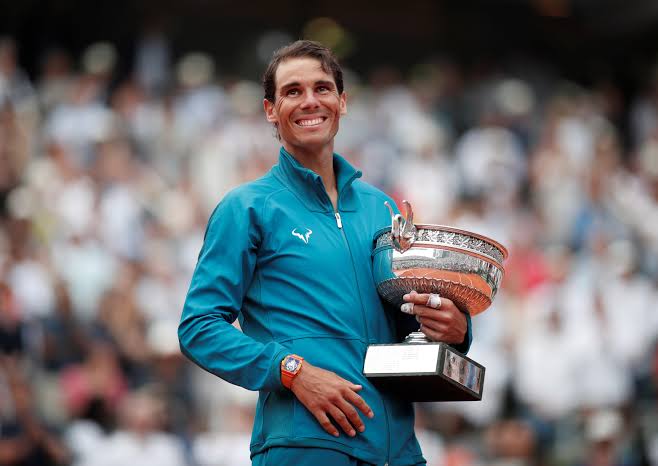 Does anybody has any other special memory or any significance with any player in such a way that affected their life? Feel free to share your experiences. This is the least our beloved heroes deserve