Liverpool were crowned the 2020 Premier League Champions, ending the Reds' 30-year wait to win the English title.

After a dream run, the team was expected to reign season 2020-2021 as well. However things are not rosy this season. In the recent heavy weight clash against Manchester City, they lost 1-4 with significant ramifications for the title race.
For the first time in FIFTY-EIGHT years, Liverpool had lost three consecutive league games at Anfield.
After 23 games this season, Liverpool (40) now have 27 fewer points than they did at the same stage last season (67), the biggest drop by any reigning champion at this stage of a campaign in English top-flight history.
Liverpool Stats at the Half-Way Stage of Each Season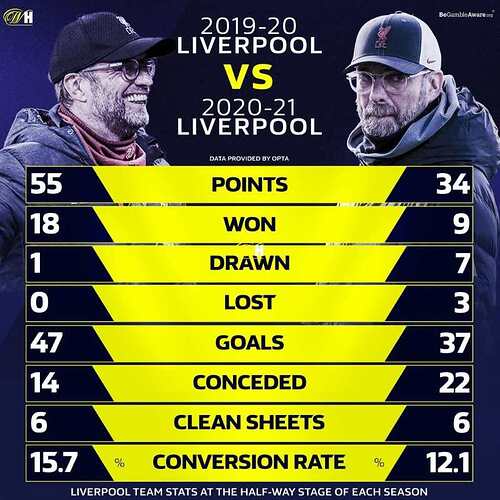 Can somebody explain to me what is wrong with Liverpool??
What has changed between last season & this season?
Players? Absence of any particular players?
Fading camaraderie among players?
Mental Fatigue?
Coaching style? Any changes there?
Management? Any issues there?
COVID19 effect??
Weather?? (pun intended)
What else??