For years, homophobia has been an easy and acceptable reaction of fans in order to belittle opposition players or supporters. However, now this kind of abuse, just being part of the game is being challenged, pushed back, and punished.
The 'Chelsea rent boys', is a chant involving many offensive lines against the LGBT community.
In January, the Crown Prosecution Service (CPS) – the main public agency for prosecuting crimes in England and Wales – announced that the "rent boys" chant often heard at football grounds in Britain, and especially aimed at Chelsea players either at the club or on loan, is a hate crime, meaning clubs whose fans sing these offensive songs can be punished as they would be for racism.
This chant was heard recently at the League Cup semi-final between Tottenham and Chelsea, and at Millwall versus Crystal Palace in the FA Cup third round where on-loan Eagles midfielder Conor Gallagher was targeted.
Even Liverpool manager Jurgen Klopp got involved when Liverpool fans chanted at Gilmour in their Premier League meeting with Norwich in August 2021. "I never understand that, why you would sing a song that is against something in a football stadium, I never got that and never liked it. I can imagine now that people out there think, 'come on, it's only winding them up' and stuff like this. But that's the problem – most of the time we don't understand. I'm not sure if people listen to me but it would be nice. I don't want to hear it anymore for so many reasons. If you don't think about what you sing: you are an idiot", he said on the Reds' official LGBT+ fan group Kop Outs.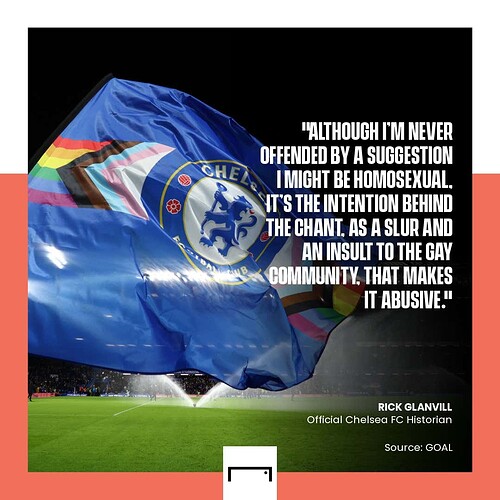 What is your opinion on this matter?