T20 cricket is a very unpredictable game. Until the very last ball, one can not just predict the sureshot winner. Fortunes can change in a matter of time and that's why we love T20 cricket in comparison to 50 overs and test matches. We've earlier witnessed matches changing in a blink of time and heading to the super overs to find a winner.
In the ongoing Indian Premier League 2020, Super Over has become a feast to watch. October 18th was without a doubt the most memorable doubleheader in IPL history as both the matches (KKR vs SRH & KXIP vs MI) were decided from a Super Over.
But for the first time in international T20 cricket, A Super Over was tied and the match went into another Super Over. The rule of subsequent Super over was decided after an uproar from fans and critics since the 2019 ICC World Cup Final where both England & New Zealand failed to deliver a clear winner despite a Super Over and England were declared as winners after the ICC rules dictated that the team that had hit more boundaries would be crowned in case of a super-over tie.
2 Super Overs in a match- KINGS XI PUNJAB vs MUMBAI INDIANS
This match had everything that a t20 cricket fan could ask for. Mumbai set a target of 177 and the match was tied with a last-ball run-out. Jasprit Bumrah just gave 5 runs of his over and MI failed to cruise to victory as Shami displayed his amazing Yorker skills and the match was tied again with each team scoring 5. The match was taken to another Super Over and this time it was MI who batted first. They managed to get 11 runs from Chris Jordan's over but it was the 'Universe Boss' Chris Gayle who made sure the Kings get the 2 points they deserved. It was just pure entertainment and was the first time in IPL history that 2 super over decided the winner eventually.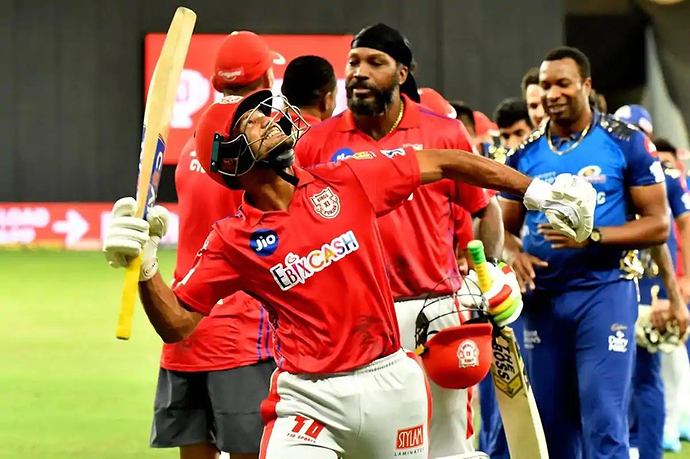 There's always a first time for everything and many unusual instances have happened just once in T20 cricket. Which other instance do you remember?