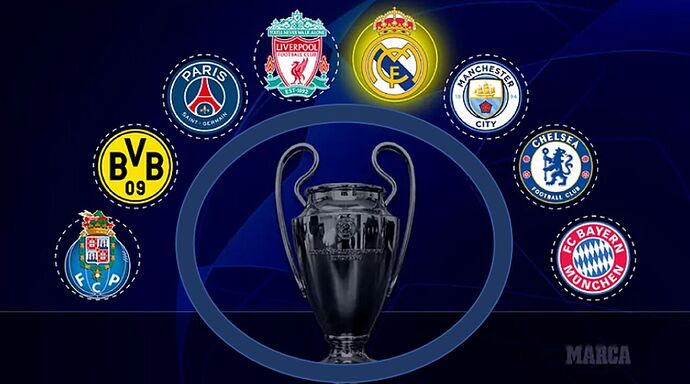 With only eight teams left in the competition, the Champions League is perfectly poised to provide us with a mouth- watering quarter finals stage.
The defending champions Bayern Munich will face Paris Saint Germain in a replay of last year's final, current Premier League leaders Manchester City will take on Borussia Dortmund, a revitalised Chelsea team will face FC Porto, and 13-time UCL champions Real Madrid will face 6-time champions Liverpool.
In this thread, we shall be covering the Quarterfinal fixtures from 6th April to 14th April. A total of 8 matches.
Quarterfinals Ties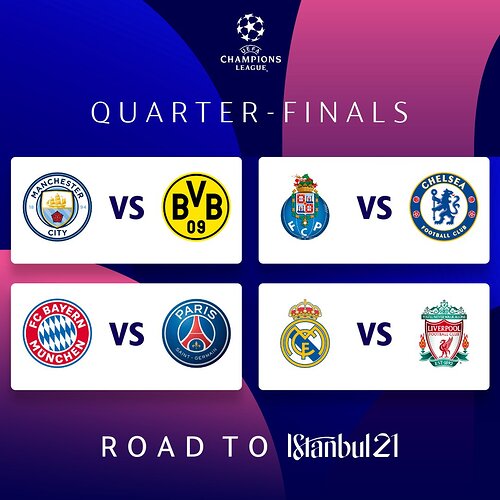 Quater-Finals First Leg
Tuesday 6th April
9pm (BST) 1am (IST)
Real Madrid (ESP) vs Liverpool (ENG)
Manchester City (ENG) vs Dortmund (GER)
Wednesday 7th April
9pm (BST) 1am (IST)
Bayern Munich (GER) vs PSG (FRA)
Porto (POR) vs Chelsea (ENG)
Quater-Finals 2nd Leg
Tuesday 13 April 2021
9pm (BST) 1am (IST)
PSG (FRA) vs Bayern Munich (GER)
Chelsea (ENG) vs Porto (POR)
Wednesday 14 April 2021
9pm (BST) 1am (IST)
Liverpool (ENG) vs Real Madrid (ESP)
Dortmund (GER) vs Manchester City (ENG)
Join in the discussion and share your view on various matches