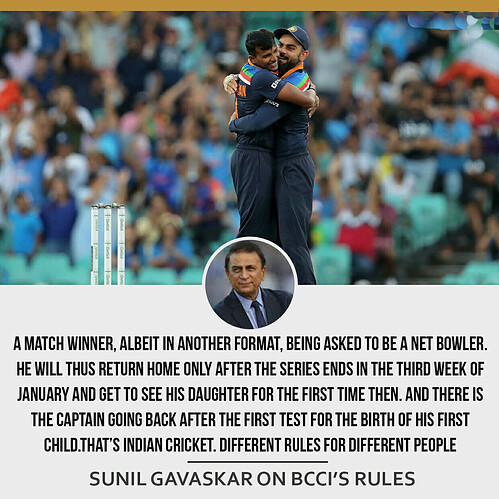 In his column on Sportstar, Gavaskar came daown heavily on BCCI & Team management for deacriminatory treatment against Ravichandran Ashwin& natarajan.
In recent developments, Indian captain Virat Kohli left Australia tour on paternity leave after one test. While Natarajan whio isn't even part of the test team has been denied paternity leave and is beng held back as net bowler.
Gavaskar also lamented aginst step mothery treatment of champion spin bowler R Ashwin. The former captain pointed out how the Tamil Nadu spinner was regularly dropped from the team after one average performance while other established batsmen remain unchallenged despite their poor show.
"For far too long Ashwin has suffered not for his bowling ability of which only the churlish will have doubts, but for his forthrightness and speaking his mind at meetings where most others just nod even if they don't agree," Gavaskar wrote in his column.