Matchweek 26 of the Premier League 2020-21 Season kicks off today.
The highlight of this Matchweek will take place at Stamford Bridge on Sunday afternoon as Chelsea welcomes Manchester United.
Chelsea are currently fifth in the table, two points behind fourth-placed West Ham United on the same number of matches, while Man United are second, 10 points behind the leaders Manchester City.
Manchester City will be eyeing to take another step closer to the Premier League title when West Ham United visit the Etihad Stadium on Saturday afternoon to lock horns with the table-toppers in Matchweek 26.
Another standout fixtures in this round of Premier League action will take place at the King Power Stadium on Sunday afternoon as Leicester City welcome Arsenal.
A Liverpool side in freefall will look to arrest their alarming slump in form when they face relegation-bound Sheffield United at Bramall Lane on Sunday evening.
Premier League Standing after the Conclusion of week 25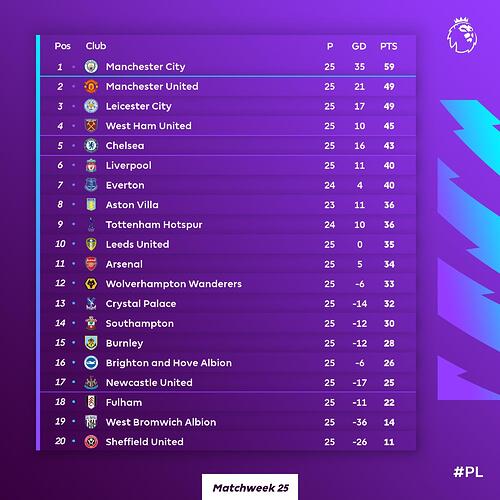 In this thread we will be covering fixtures of Matchday 26 from 27th February to 1st of March. A total of 10 matches.
Premier League fixtures for matchweek 26 and live match times
Saturday, 27th February
Manchester City vs Westham - 1:30pm (BST) 6:00 PM IST
West Brom vs Brighton and Hove Albion - 4pm (BST) 8:30 PM IST
Leeds United vs Aston Villa - 6:30pm (BST) 11:00 PM IST
Newcastle United vs Wolverhampton - 9pm (BST) 1:30 AM IST
Sunday, February 28
Leicester City vs Arsenal - 1pm (BST) 5:30 PM IST
Crystal Palace vs Fulham - 3pm (BST) 7:30 PM IST
Chelsea vs Manchester United - 5:30pm (BST) 10:00 PM IST
Sheffield United vs Liverpool - 8pm (BST) 12:30 AM IST
Monday, March 1st
Everton vs Southampton - 9pm (BST)
1:30 AM IST
Plenty of exciting action in the EPL this Weekend! Join in the discussion and share your views on the best and worst matches and anything in between.