The action continues to come at a breakneck speed all across Europe and in England, Gameweek 24 of the 2020/21 Premier League season begins this weekend.
The highlight of this Matchweek is obviously at the King Power Stadium as Liverpool face a tough test when they visit Leicester City in their latest Premier League showdown on Sunday.
Another important game this weekend will be played at the Etihad Stadium, where Manchester City will be playing hosts to Tottenham Hotspur, with three points of the utmost importance for both the teams.
Current Premier League Standing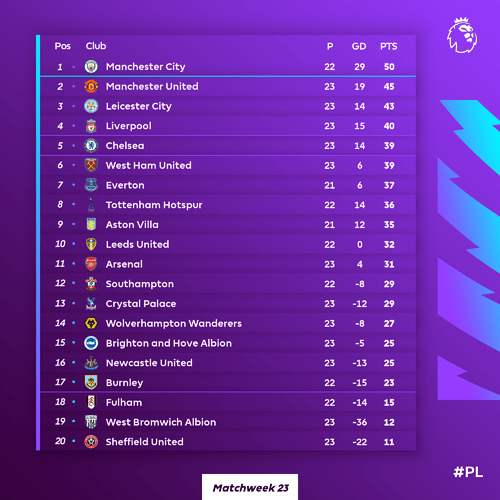 In this thread we will be covering fixtures of Matchday 24 from 13th to 15th of February. A total of 10 matches.
Premier League fixtures for matchweek 24 and live match times
Saturday, February 13
Leicester City vs Liverpool - 1:30pm (BST) 6:00 PM IST
Crystal Palace vs Burnley - 4pm (BST) 8:30 PM IST
Manchester City vs Tottenham Hotspurs - 6:30pm (BST) 11:00 PM IST
Brighton vs Aston Villa - 9pm (BST) 1:30 AM IST
Sunday, February 14
Southampton vs Wolves - 1pm (BST) 5:30 PM IST
West Brom vs Manchester United - 3pm (BST) 7:30 PM IST
Arsenal vs Leeds - 5:30pm (BST) 10:00 PM IST
Everton vs Fulham - 8pm (BST) 12:30 AM IST
Monday, February 15
West Ham vs Sheffield United - 7pm (BST) 11:30 PM IST
Chelsea vs Newcastle United - 9pm (BST)
1:30 AM IST
Wednesday, February 17
Burnley vs Fulham - 7pm (BST) 11:30 PM IST
Everton vs Manchester City - 9:15pm (BST)
1:45 AM IST
Plenty of exciting action in the EPL this Weekend! Join in the discussion and share your views on the best and worst matches and anything in between.