After last weekend's FA Cup Action , there's no time for rest and recuperation as 12 Premier League teams dive straight into midweek action.
League leaders Liverpool are among the sides taking a welcome breather, but for some of the Reds' fiercest rivals - namely Manchester City, Manchester United, Tottenham, and, Everton, it's a chance to shake things up in the title race and charge for European qualification places.
Current Premier League Standings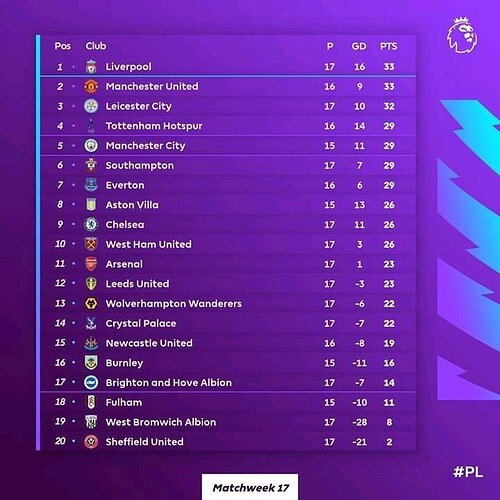 In this thread we will be covering fixtures of Matchday 18 from 12th to 14th of January. A total of 6 matches.
Premier league Fixtures
Tuesday, 12th January
Sheffield United vs Newcastle 7pm (BST) 11:30pm (IST)

Burnley vs Manchester United 9:15pm (BST) 1:45am (IST)

Wolverhampton vs Everton 9:15pm (BST) 1:45am (IST)
Wednesday, 13th January
Manchester City vs Brighton and Hove Albion 7pm (BST) 11:30pm (IST)

Tottenham vs Fulham 9:15pm (BST) 1:45am (IST)
Thursday, 14th January
Arsenal vs Crystal Palace 9pm (BST) 1:30am (IST)
Plenty of exciting action in the EPL this Midweek! Join in the discussion and share your views on the best and worst matches and anything in between.