The English Premier League is back just a day after the Christmas celebrations for Matchday 15.
The Boxing Day fixtures have a special significance in the English top-flight and this year as many as 12 teams will be in action on 26th December, while the remaining 8 teams face off on the 27th of December.
The highlight of the Matchday, obviously, will be the opener between Leicester City and Manchester United at the King Power Stadium. The second and third-placed teams would be looking to retain their top-four status heading into the new year.
It's also a London derby Matchday, As Arsenal hosts London rivals Chelsea in what promises to be another cracking Encounter.
Premier League Standings after the conclusion of week 14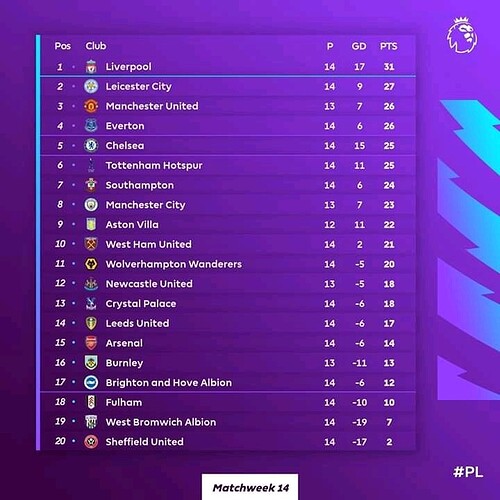 In this thread we will be covering fixtures of Matchday 15 from 26th to 27th of December. A total of 10 matches.
GAME WEEK 15 FIXTURES:
Saturday, December 26th
Leicester City vs Manchester United 1:30pm (BST) 6pm (IST)

Aston Villa vs Crystal Palace 4pm (BST) 8:30pm (IST)

Arsenal vs Chelsea 6.30pm (BST) 11pm (IST)

Manchester City vs Newcastle United 9pm (BST) 1:30am (IST)

Sheffield United vs Everton 9pm (BST) 1:30am (IST)
Sunday, December 27th
Leeds United vs Burnley 1pm (BST) 5:30pm (IST)

Westham United vs Brighton and Hove Albion 3.15pm (BST) 7:45pm (IST)

Liverpool vs West Brom 5:15pm (BST) 9:45pm (IST)

Wolverhampton vs Tottenham 8.15pm (BST) 12:15am (IST)
Plenty of exciting action in the EPL this weekend! Join in the discussion and share your views on the best and worst matches and anything in between.