It's another exciting game week in the Premier League as Thomas Tuchel faces the biggest test of his Chelsea career when his resurgent Chelsea side take on their former Coach side, Tottenham Hotspur at the Tottenham Hotspur Stadium.
Liverpool will be aiming to claim three wins on the bounce after their back to back victory against the London clubs, Spurs and West Ham when they take on Brighton this midweek while Man City will look to cement their place at the top when they travel to Turf Moor to face Burley.
Manchester United will aim to bounce back after dropping points in their last two games when they welcome Southampton to Old Trafford tonight…
Current Premier League standing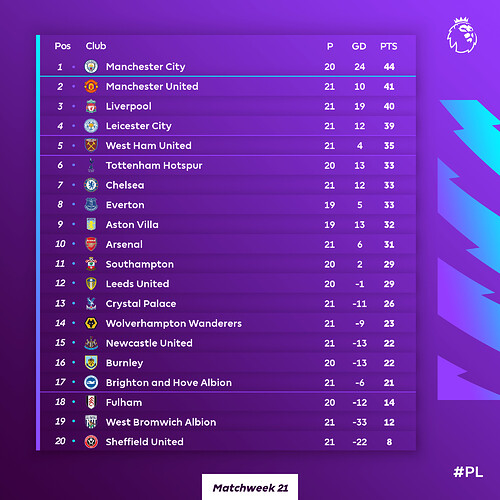 In this thread we will be covering fixtures of Matchday 22 from 2nd to 4th of February. A total of 10 matches.
Premier League Fixtures
Tuesday 2nd of February
Sheffield United Vs Westbrom 7pm (BST) 12:30am (IST)
Wolverhampton vs Arsenal 7pm (BST) 12:30am (IST)
Manchester United Vs Southampton 9:15pm (BST) 2:45am (IST)
Newcastle United vs Crystal Palace 9:15pm (BST) 2:45am (IST)
Wednesday 3rd February
Burnley vs Manchester City 7pm (BST) 12:30am (IST)
Fulham Vs Leicester City 7pm (BST) 12:30am (IST)
Leeds United Vs Everton 8:30pm (BST) 2:00am (IST)
Aston Villa Vs West Ham United 9:15pm (BST) 2:45am (IST)
Liverpool Vs Brighton 9:15pm (BST) 2:45an (IST)
Thursday 4th February
Tottenham Hotspur Vs Chelsea 9pm (BST) 2:30am (IST)