We're Heading into Week 12 of the 2020/21 Premier League Season. Tottenham Hotspur sits at the top of the table, tied on points with Liverpool but ahead on goal differential.
It's also the Manchester Derby Match Day.

Manchester United welcomes arch rivals Manchester City to Old Trafford on Saturday night, on what promises to be a thrilling encounter.
Current EPL Standings heading into week 12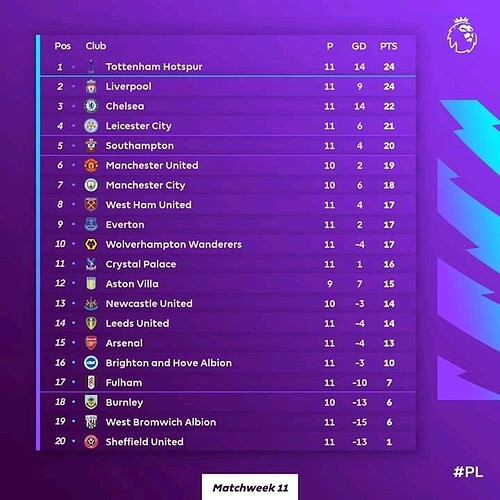 In this thread we will be covering fixtures of Matchday 12 from December 11th to 13th, a total of 10 matches.
Friday, December 11th
Saturday, December 12th
Wolverhampton vs Aston Villa- 1:30pm (BST) 6pm (IST)
Newcastle United vs West Brom- 4pm (BST) 8:30pm (IST)
Manchester United vs Manchester City 6:30pm (BST) 11pm (IST)
Everton vs Chelsea- 9pm (BST) 1:30am (IST)
Sunday, December 13th
Southampton vs Sheffield United 1pm (BST) 5:30pm (IST)
Crystal palace vs Tottenham Hotspur 3:15pm (BST) 7:45pm (IST)
Fulham vs Liverpool - 5:30pm (BST) 10pm (IST)
Arsenal vs Burnley- 8:15pm (BST) 12:15am (IST)
Leicester City vs Brighton and Hove Albion- 8:15pm (BST) 12:15am (IST)
Plenty of exciting action in the EPL this weekend! Join in the discussion and share your views on the best and worst matches and anything in between.