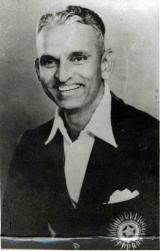 At the time of his death, Gopalan was the oldest surviving Test cricketer, a mantle which passed to Don Cleverley (New Zealand). Gopalan played his only Test against England at Calcutta in 1933-34, taking one wicket and scoring 18 runs. He was more successful in first-class cricket, taking 194 wickets as a fast bowler as well as scoring 2916 runs in 78 matches. Gopalan was a double international, who also represented India at hockey as a centre-half.
In 1936, he was on the horns of a dilemma having to choose between the cricket tour of England and a sure gold medal with the hockey team at the Berlin Olympics. Gopalan decided on the cricket, the decision which didn't turned out well for him. He missed Gold at Olympics. He had only modest success in the limited opportunities he was given on the England tour of India.
Gopalan bowled the first delivery in the Ranji Trophy, against Mysore at Madras in November 1934. He also captained them for several years. He was a Test selector in the late 1950s and early '60s.