'King of Clay' Rafael Nadal defeated Novak Djokovic to win record 10th title Nadal beat the World No.1 and defending champion Djokovic as he continued his dominance on clay court.
In the 57th meeting of the ATP Tour's most prolific rivalry, Nadal defeated the Serbian 7-5, 1-6 and 6-3 after losing the second set.

The victory also earned Nadal a 36th ATP Masters 1000 crown, equalling Djokovic's record since the series was established in 1990.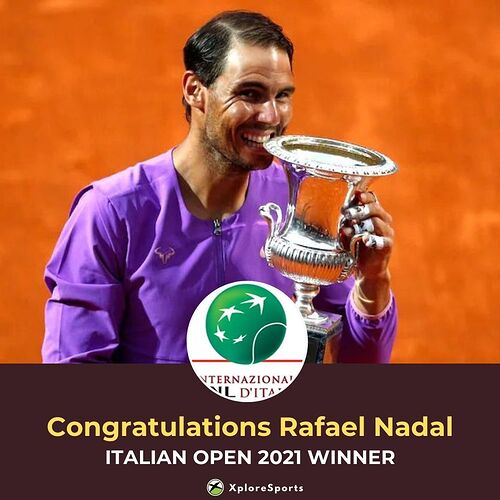 Nadal in his post-match press conference.
"It's a very satisfying [victory]," "It's amazing [to] have the trophy with me again one more time here in Rome. The 10th, I really wanted this 10th here in Rome. It was one of the first important titles that I won in my career.
"After achieving 10 in Roland Garros, 10 in Monte-Carlo, 10 in Barcelona, I really wanted this one."