**Kashmir Alpine Lakes Trek**

Kashmir has got a title of "paradise on earth", it's not because of gardens and palaces made by Mughals, it just because of its amazing natural beauty which comes from snow-capped mountains, meadows full of wildflowers, pristine flowing sweet water rivers. Kashmir is regarded as the bride and pride of India enriched with endless positive aspects. The unparalleled alpine beauty of the mountain ranges and the waterfalls flowing along with is undoubtedly a breathtaking experience. Owing to its scenic beauty and naturally created sites, panoramic views of the beautiful nature is attracting tourists from all over the world. If you love adventures and want to witness amazing natural views then Kashmir Alpine lakes trek is meant for you, its an awesome trekking trail covering 12 Major Alpine lakes of Kashmir.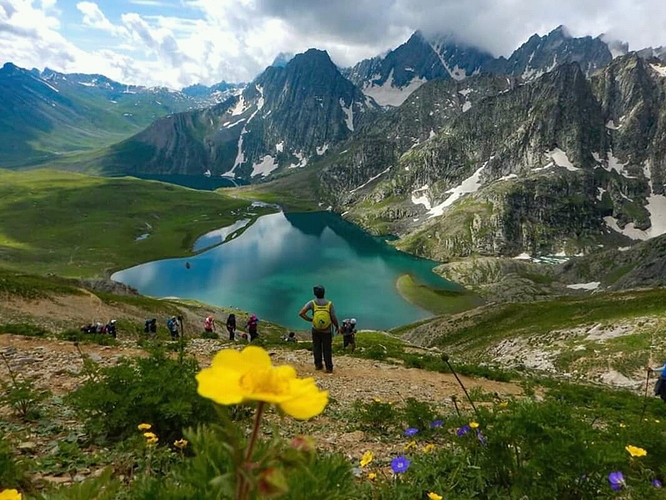 You will be exploring most epic views of nature and the experience is mind-blowing. There are more than 2000 Alpine lakes in the state of Jammu and Kashmir but all of them are not meant for trekking purposes due number of reasons. When it comes to difficulty level the Kashmir alpine lakes trek is moderate and does have 4 know trailheads. **The Kashmir alpine lakes cover whole the trail Kashmir great lakes trek with more 6 amazing lakes including Tarsar Marsar Lakes and other 4.
As per the guidelines of the Department of Tourism Jammu and Kashmir, you cannot go for this trek solo or with a group who have not booked through an authorized travel agency or adventure agency and proper permissions needed. Below is the list of alpine lakes that comes under this trail.
Nundkol Lake. (3500 meters above the sea level).
Gangabal Lake . (3575 meters).
Satsar Lake . (3610 meters).
Gadsar Lake . (3600 meters).
Vishansar Lake . (3710 meters)
Krishansar Lake .(3750 meters).
Kolesar Lake . (3800 meters)
Tarsar Lake. (3795 meters).
Marsar Lake . (4000 meters).
Sundarsar Lake . (3800 meters).
Surfsar Lake . (3750 meters).
Hoksar Lake. (3780 meters).
Book the most beautiful treks onto Indian Himalayas.
Kashmir Alpine Lakes Trek.