Today is (Rather was, A bit late I am) birthday of Virendra Sehwag! A ONE of a Kind cricketer! Cheeky, Ferocious, Audacious! "The Smiling Assassin" "The Nawab of Najafgarh" "The Sultan Of Multan"! He was sometimes refereed to as Butcher, But he was essentially an artist, butcher with a flair! Time stopped to watch him when he batted! Pitches and conditions didn't really mattered when he took strike! Fielders never bothered when he hit them! Though bowlers were always in with a chance with him, They trembled bowling to him!
He gave birth a new breed of batters. There simply no one was like him, And there will be no one like him!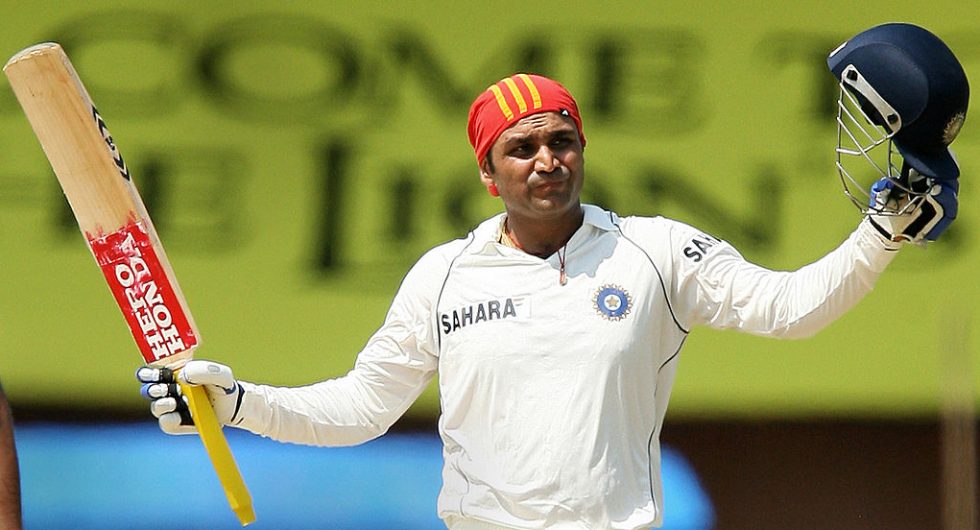 Some awe inspiring stats about the ever popular "Viru"…
Completed 7 Test tons in less than 100 balls & 5 doubles in less than 200 balls.
Highest Test Score for India (250+)
319 VIRENDER SEHWAG
309 VIRENDER SEHWAG
303* Karun Nair
293 VIRENDER SEHWAG
281 VVS Laxman
270 Rahul Dravid
254* Virat Kohli
254 VIRENDER SEHWAG
300s In Test Cricket
Sehwag - 2
All Other Indians - 1
250s In Test Cricket
Sehwag - 4
All Other Indians - 4
Players who were close to scoring three Triple Centuries in Tests.
Bradman
334 v England, 1930
299* v South Africa, 1932
304 v England, 1934
Sehwag
309 v Pakistan, 2004
319 v South Africa, 2008
293 v Sri Lanka, 2009
For India, Most runs from Boundaries in a Test Inning
Sehwag - 202 (vs SL)
Sehwag - 198 (vs SA)
Sehwag - 194 (vs Pak)
Sehwag - 192 (vs Pak)
Laxman - 176 (vs Aus)
Indians Scoring Most Consecutive 50+ scores in IPL
Sehwag - 5 (2012)
Dhawan - 4 (2020)*
Kohli - 4 (2016)
Most consecutive 50+ scores (IPL)
5 V Sehwag in 2012 (DC)
5 J Buttler in 2018 (RR)
5 D Warner in 2019 (SRH)
4 V Kohli in 2016 (RCB)
4 K Williamson in 2018 (SRH)
4 S DHAWAN in 2020 (DC)
Sehwag in World Cup 2011
First ball v Bangladesh - FOUR
First ball v England - FOUR
First ball v Ireland - FOUR
First ball v Netherlands - FOUR
First ball v South Africa - FOUR