The end of the 2020 season of Formula 1 is near, the final race being on the 13th of December in Abu Dhabi



The 2021 season is expected to start in March 2021, so it is about time that next year's driver lineup be finalized.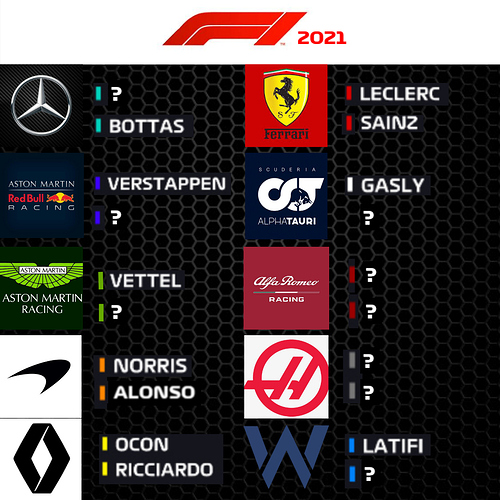 Pictured above, you can see which seats have been confirmed and which are yet to be filled.
Haas will have a completely new driver lineup, with Magnussen and Grosjean both announcing their departure from the team last week.
It is no surprise to anyone that Alex Albon's seat for Red Bull has not been confirmed for the 2021 season, what with his shaky performance of late and Red Bull's notorious reputation for getting rid of drivers.
What really DOES come as a surprise, is that Lewis Hamilton still hasn't renewed his contract with Mercedes for next year



Will he be retiring already? We hope not (although a break from his dominance in the races might be a fresh breath of air

)
Williams' George Russell has a contract that guarantees him a seat for the 2021 season, but recent rumors suggest that the new owners may be considering backing out of the deal



Word on the street is that Sergio Perez will probably be filling the second seat at Williams in 2021.
While Lance Stroll is most probably a shoo-in for the vacant Aston Martin seat, his recent pitiful performance may encourage the team to look for greener pastures.
No drama when it comes to the unconfirmed seats of Kimi Raikkonen, Danii Kvyat, and Antonio Giovinazzi, but the latter two will probably be replaced by new drivers the likes of Mick Schumacher, Callum Ilott, or Nikita Mazepin.