The penultimate stages of the 2020/21 UEFA Champions League kick off this week as four teams battle it out for the place in the finals of the competition.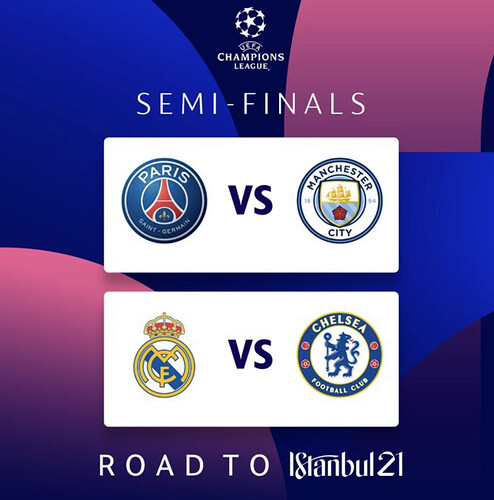 Kicking things off in the first leg on Tuesday will be two teams who wanted out of the Champions League next season as they sought to kickstart the breakaway European Super League – Real Madrid and Chelsea.
Dreams of a maiden Champions League crown will be extinguished for one of Paris Saint-Germain or Manchester City on Wednesday, as the two continental giants lock horns in the first leg of their semi-final at the Parc des Princes.
Semi-Finals First Leg Fixtures
Tuesday 27th April
8pm (BST) 12am (IST)
Real Madrid (ESP) vs Chelsea (ENG)
Wednesday 28th April
8pm (BST) 12am (IST)
PSG (FRA) vs Manchester City (ENG)
Semi-Finals Second Leg Fixtures
Tuesday 4th May
8pm (BST) 12am (IST)
Chelsea (ENG) vs Real Madrid (ESP)
Wednesday 5th May
8pm (BST) 12am (IST)
Manchester City (ENG) vs PSG (FRA)