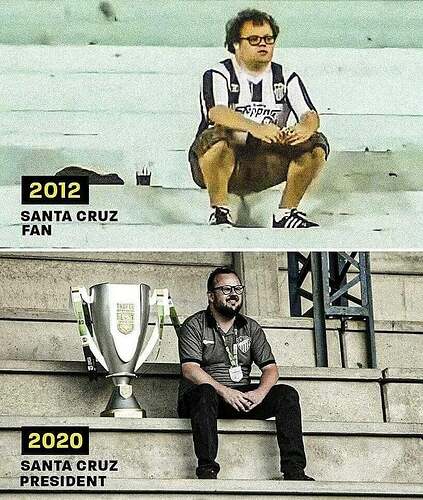 On 2012, Tiago Rech was the only Santa Cruz fan as Santa Cruz lost 4-1 to Gremio. Last Friday, Santa Cruz won the State Championship and qualified for the Brazilian Cup with Tiago Rech as the President of the club. Unreal!
As per this article, He was the only fan in the stadium during a match in 2012 against Gremio. The club was relegated to the 2nd division of the state championship (not playing in any national competitions). In 2013 he joined the club as a media relations officer (he has a background in journalism).
He was elected as club president in 2013 at age 27 for 1 year, and then elected again from 2018 to present day. The club was relegated to the 3rd division of the state championship after 2018.
The club earned money from solidarity payments for golakeeper Tiago Volpi (São Paulo FC) and Pedro Henrique (Kayserispor - Turkey).
In 2020 they won the State Cup (not the state league) and automatically qualify for next year's Copa do Brasil and a "community shield"-style match against state league winners Gremio.