The Indian team is in Tajikistan today as they face Afghanistan in their next 2022 FIFA World Cup qualifier fixture in Dushanbe.
India is now at 4th place in Group E after just two points from 3 matches. India lost to Oman (1-2) in the opener in Guwahati, a goal-less draw against Qatar in Doha in September and 1-1 draw against Bangladesh in Kolkata on October 15. Adil Khan's last-gasp header in 88th minute saved us in Kolkata.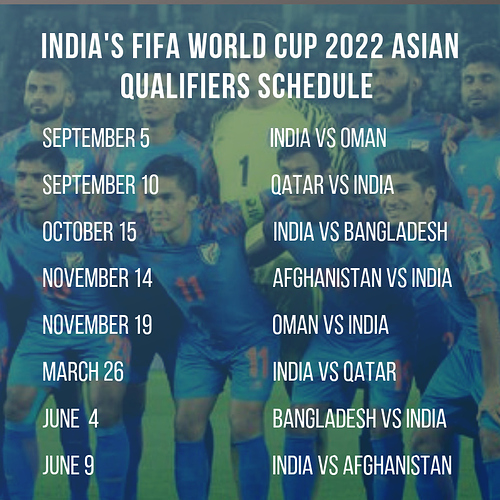 Indian team cannot afford to lose this crucial match against Afghanistan in the World Cup qualifying round. The Afghans, who are 149th in FIFA rankings against India at 106th position, are placed third in the group with one win and two losses.
After Afghanistan, the Indian team face Oman on November 19 in Muscat. Oman are ranked higher than India at 84th.
Let's keep this thread to discuss India's FIFA World Cup Qualifying round, updates on matches and discussion related to it.