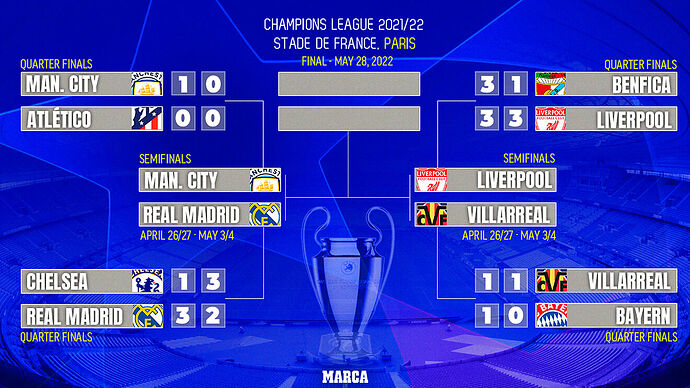 European glory in 2021-22 will almost be within reach for those that make it through to the last four, with tickets to a Paris showpiece up for grabs
The Champions League returns with the semi-final first legs as Man City host Real Madrid and Villarreal visit Anfield.
Here are the details of the semi-final fixtures:
###First Leg Matches
Tuesday, 26th April 2022
8:00pm Manchester City v Real Madrid
Wednesday, 27th April 2022
8:00pm Liverpool v Villarreal
Second Leg Matches
Tuesday, 3rd May 2022
8:00pm Villarreal v Liverpool
Wednesday, 4th May 2022
8:00pm Real Madrid v Manchester City
In this thread, we shall be covering all the Seminal fixtures of the Champions League. Join the discussion and share your views on the various matches.