Arsenal host Newcastle at lunchtime on Saturday, kicking off a busy weekend of Premier League action.
In the 3 p.m. kick-offs, Liverpool will host Southampton, and Steven Gerrard's Aston Villa will travel to Crystal Palace for the first time. On Saturday evening, Brighton will face Leeds, followed by a slew of games on Sunday afternoon.
West Ham travels to Manchester City, while Tottenham are looking to rebound from their loss to Burnley in Slovenia. All four games begin at 2 p.m., with Brentford hosting Everton and Leicester hosting Watford.
Leaders Chelsea then face Manchester United at Stamford Bridge in a mouthwatering clash to round off the weekend action.
Premier League Standings going into Matchweek 13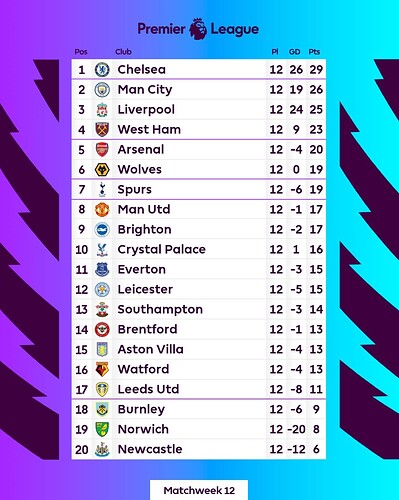 In this thread, we shall be covering all Matchweek 13 fixtures between 27th and 28th of November. Join the discussion and share your views on the various matches.