125 years ago on this day in 1895 Santiago Bernabéu Yeste was born - the man that shaped Real Madrid to the club it is today.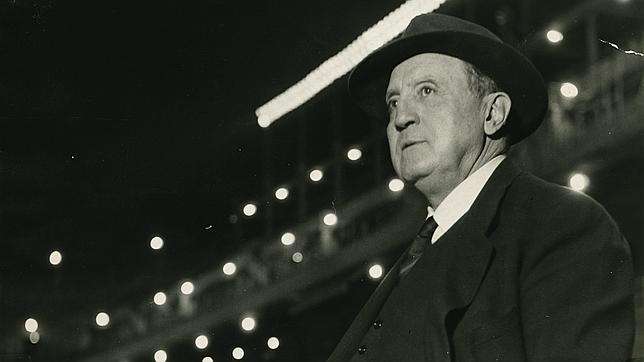 Santiago Bernabéu Yeste: The Father of Success
The history of Real Madrid seems endless. Countless titles have been collected and even more glorious players have laced their shoes for Los Merengues. Yet under all those memorable moments one man stands out. Without him, Real Madrid would perhaps no longer exist: Santiago Bernabéu Yeste. Born 125 years ago today, REAL TOTAL looks back on his creative period.
Everything began in Almansa, in the east of Spain. Born on June 8, 1895 in the province of Albacete, Santiago Bernabéu Yeste, however, moved with his parents to the Spanish capital as a small child. In his teenage years he joined the youth team of Madrid Football Club - as the club was then known - and made his men's debut in 1912 at the age of 17. His greatest success as an active footballer came in 1917 when he won the Copa del Rey. By 1927, Bernabéu was to have scored 69 goals in 79 matches for Los Blancos - an enormously good quota, but still nothing in relation to the achievements he was to make for the club afterwards.
After the civil war: Bernabéu rebuilds the club
During his football career, Santiago Bernabéu successfully completed his law studies and was admitted to the bar. After his active time, he initially remained loyal to the club as secretary of the "Junta Directiva". This activity comes to an abrupt end after the outbreak of the civil war in 1936, Bernabéu flees into exile in France. When he returns, his beloved club lies in ruins. This is where the story of Real Madrid could have ended before it really began - thanks to Bernabéu it didn't.
31 Titles under his presidency
The sports official acquired former players and officials to start rebuilding the stadium and club properties. However, Bernabéu could not count on state funding. Atlético Madrid, meanwhile renamed Atlético Aviación, had taken over the sporting supremacy in the Spanish capital after the war and therefore seemed to be in the favour of dictator Franco. For this reason too, Bernabéu vehemently resisted any accusations that Real was a régime club: "What the Franco dictatorship did was to take advantage of us and they never gave us even five cents." Despite all the obstacles, he managed to keep Los Blancos playing.
In 1943, Bernabéu was promoted to president of the club by a curiosity: after a clásico, there were allegedly such riots between the two fan camps that the government forced the respective presidents to resign. Due to previous merits, he became the legitimate successor and held office until his death. During his 35-year term of office, Real Madrid was to secure a total of 31 trophies, including six national championship cups and 16 championships.
"This argentine has to play in Madrid"
The goals of the new president were clearly defined: He wanted to create the greatest club in the world. To achieve this, he needed a new stadium in order to be able to finance the best players in the world through ticket revenues. At the same time, he pushed ahead with the reorganisation of all club structures and promoted professionalisation at all levels - and the work bore fruit. Not only in football, but also in other departments such as basketball, national and international successes were achieved. And that was not all.
In 1944, some may have thought him crazy to want to build a stadium for 100,000 spectators. But in 1947 the Nuevo Estadio Chamartín was completed and just eight years later it was renamed to its present name Estádio Santiago Bernabéu. The lawyer had already set himself a monument during his lifetime and manifested his myth through his glorious successes with Alfredo di Stéfano's side, his very personal transfer coup: "I want this player, no matter what the cost, this Argentinian must play in Madrid" the visionary already had a premonition of the future importance of the "blond arrow" for the club. Newcomer Paul Breitner also described him as the "only sage in my life" .
Don Bernabéu's legacy remains to this day
"The Real Madrid jersey is white, it can be stained with mud, sweat or even blood, but never with shame" , Bernabéu is known for such sayings. On 2 June 1978, the man to whom the club owed more than any player died. Don Bernabéu is the founding father of the "Real Madrid myth". He was a visionary in his office and was able to overcome every obstacle and resistance, but he was ultimately powerless in the face of cancer, which was diagnosed in 1977. What remains is "his" venerable stadium and the club philosophy he propagated, which is still lived today and which makes Madridismo so special. Descansa en paz, señor.