Whether it is football or cricket or athletics, few athletes are admired not only for their playing skills but also for their trademark celebrations they display after taking a wicket, scoring a goal or winning the race. From flips, somersaults, dance moves, to the slide towards the corner flag, celebrations range in creativity and have become a fan entertaining factor. Few players have also debut new goal celebrations to raise funds for a cause.
Some of the well known celebrations that instantly come to my mind are of Usain Bolt's signature pose, Messi's raised hands pointing to the sky, Sheldon Cottrell's salute and Ronaldo's jump in the air with a swivel move accompanied by him shouting "Sii" whenever he scores a goal.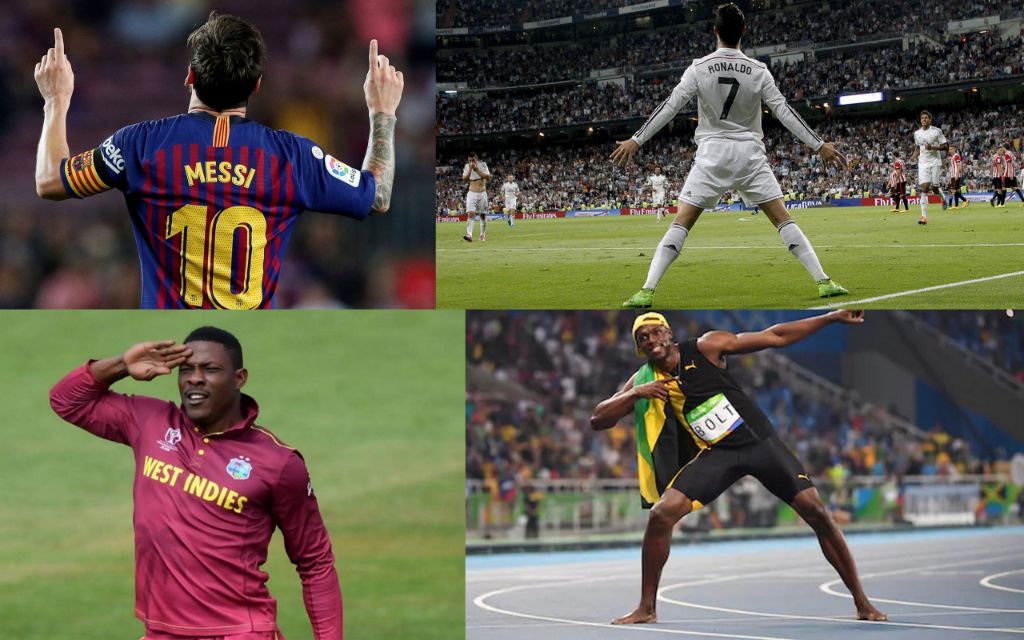 Almost every time Messi scores a goal, he raises his hands and points his index fingers to the sky. Messi dedicates his goals and triumphs to his grandmother who passed away before the Argentine became a sensation that he is today. Messi's grandmother, Celia Olivera Cuccittini, was the first to believe in his exceptional talent and she was the one who took him to his first football game. Despite coaches in Rosario, Messi's hometown in Argentina, writing him off because of his small stature, Messi's grandmother insisted that he be given a chance.
"Put him on and you'll see how well the little boy plays," Messi's grandmother told the coach, who replied: "OK, but I'm putting him near the touchline so that when he cries you can take him off yourself."
She didn't have to take him off and the rest is history.
So, what is the story behind the other athlete celebrations? Which celebrations are your favorite? Share your icon's celebrations.